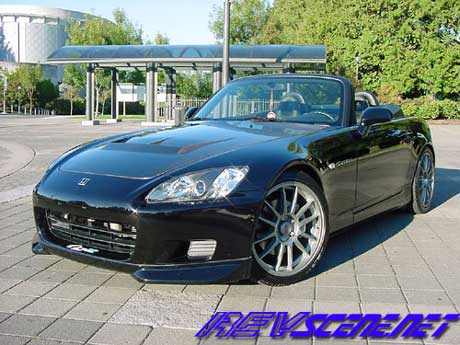 From the first moment I saw Richard Sia (Shamu) post his pictures of his S2k on RS I knew we had to get him for a featured ride (actually in reality it was either Rich's car or Sorrgwa's Highlander). I PM'd him right away. I was rather surprised to hear he was interested in doing the feature and agreed to doing it without negotiations. He just needed some more time to finish some things on it but after that it would be ours. SOOOOO........we waited 4 months for it. Heck I had nothing else to do. So the day finally came and we met at UBC rosegarden. Beautiful day and we had brought our model for the shoot with us as well. Unfortunately the first time we did the shoot, it got dark real fast and most of the pictures we took turned into crap. So, we had another excuse to check out this beauty of a car. And what a beauty it is. OZ rims, Spoon parts everywhere and a great sound system to go with it. One of the best S2000's i've seen around. It's sad to hear Rich is planning to get rid of it. Maybe one day, when I win the lottery I can pick up a beauty of a car like Rich's. Hey Rich. Can you wait for me to win the Lotto?

Here's some highlights from my interview with Rich:

RS: Why did you choose the S2k?
Rich: The main reason is price/performance. I was in the market for a roadster/convertible so I looked into the TTs, Z3, Boxster etc. and the S2000 offered the best price/performance out of the competition. In my opinion, I also liked the look/styling of the S2K the best out of the other roadsters currently in the market.

RS: Did you buy it with your own money?
Rich: Haha, this is a funny question! I remember one of my first "intro" posts in RS was incurred comments like "I hope Mom likes all her new Spoon Silverware" etc. from people I didn't know, or didn't know me! Needless to say that was a bit frustrating. But for the record, yes, I did buy the car and all the aftermarket parts with my work money. I work full-time as a tech consultant, and I don't get an allowance from Mom and Dad.

RS: Why did you choose Spoon products?
Rich: I wanted to (as much as possible) build a JDM-prep track car rather than a dragster or a 1/4 mile car. So the two products I really considered were Mugen and Spoon, and honestly, I went with Spoon since it is more accessible for us here in Vancouver through AJ-Racing. I can honestly say there's no compromise in their build quality and I appreciate the fact that the Spoon parts available to the public are the same parts that are used in their own S2K race car, rather than a "toned-down/street" version.

RS: What's the best thing you like about your S2k?
Rich: Honestly, the looks. I don't drive it hard on the streets so I rarely get the opportunity to really let her go. But I'm a big fan of the S2K design and styling, and in my opinion it's one of the car's strongest features.

RS: What's your opinion on the Import Scene?
Rich: Regarding the import scene, I would sum it up by saying "to each his own." There's so many different "styles" out there that you'll rarely see two cars modified the same way! That's what makes the scene so unique -- it's a great forum to really represent your own tastes and style. I'm not saying that I like every modified car out there, but if someone chose to do something to their car, he/she must like it, and I respect that.

RS: Any Shout outs to anybody?
Rich: AJ-Racing for their patience, advice, and expertise that I really relied on when building this car. www.s2ki.com -- without a doubt the best S2000-specific forum on the Net! Tons of relevant info, help, and advise for S2K owners on all aspects of the car -- not just on modifying or aftermarket parts.