Wanted to share some information on turbo charged 2JZGE engine since there has been quite a bit of questions about 2JZGE with forced induction.
Start from dyno graph comparison between 2jzgte and 2jzge.
Stock Supra will do 190-200 hp at the wheel and best number we've ever seen on our dyno with stock turbo is 330rwhp (with FMIC, full exhasut, Boost controller, and AFC)
Run 1 (Solid line): IS300 automatic, w/ t67, meth, and E-manage Blue.
(stock Engine)
Run 2 (Dashed Line) : 95 Supra w/ stock turbo, full exhaust, FMIC,
and boost controller (stock ecu, no BCD)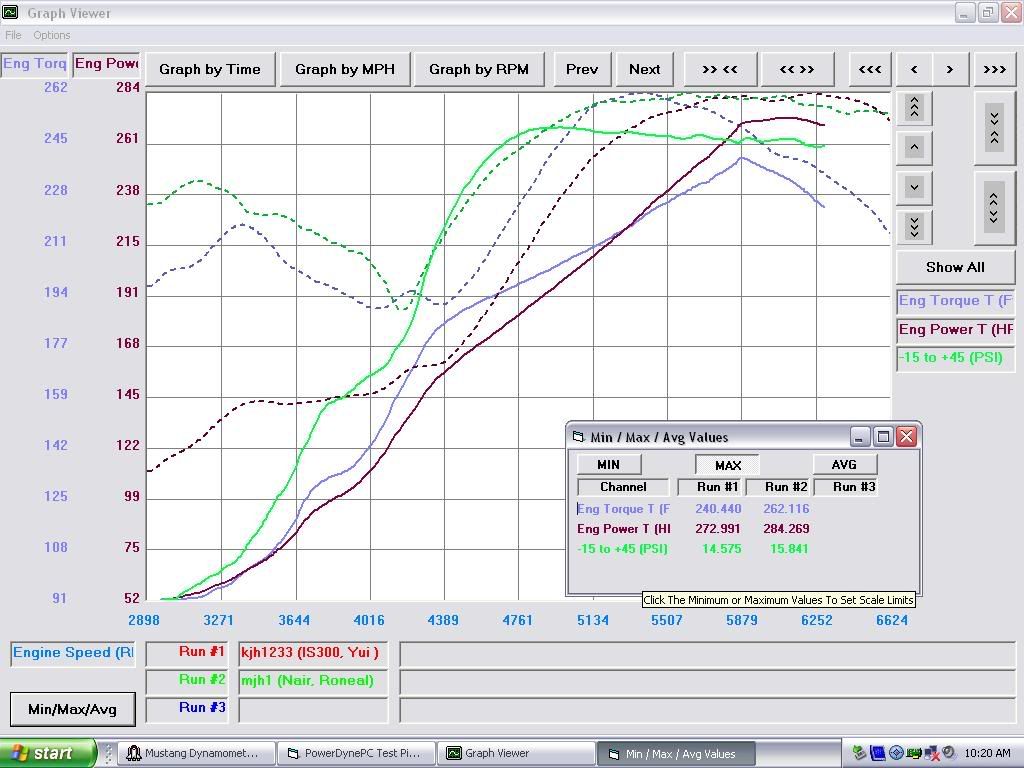 When the IS300 came to the shop first time, it already had all the settup without meth, and had blown engine. All the set up seemed to be done right except the tuning parts.
With new engine and meth, the tune was very conservative (by choice of customer). The T67 is capable of a lot of power (approx 550rwhp on our dyno) and is better suited for a fully built engine.
So, both engines ended up making nearly identicle peak horsepower which is pretty impressive for 2jzge considering it's automatic and running that low boost on a big turbo, but supra's sequential system makes much more usable midrange torque and horse power.
Well, 2jzge with forced induction seems to work alright. in fact,I does work OK! if it set up right.
However, here's the problem.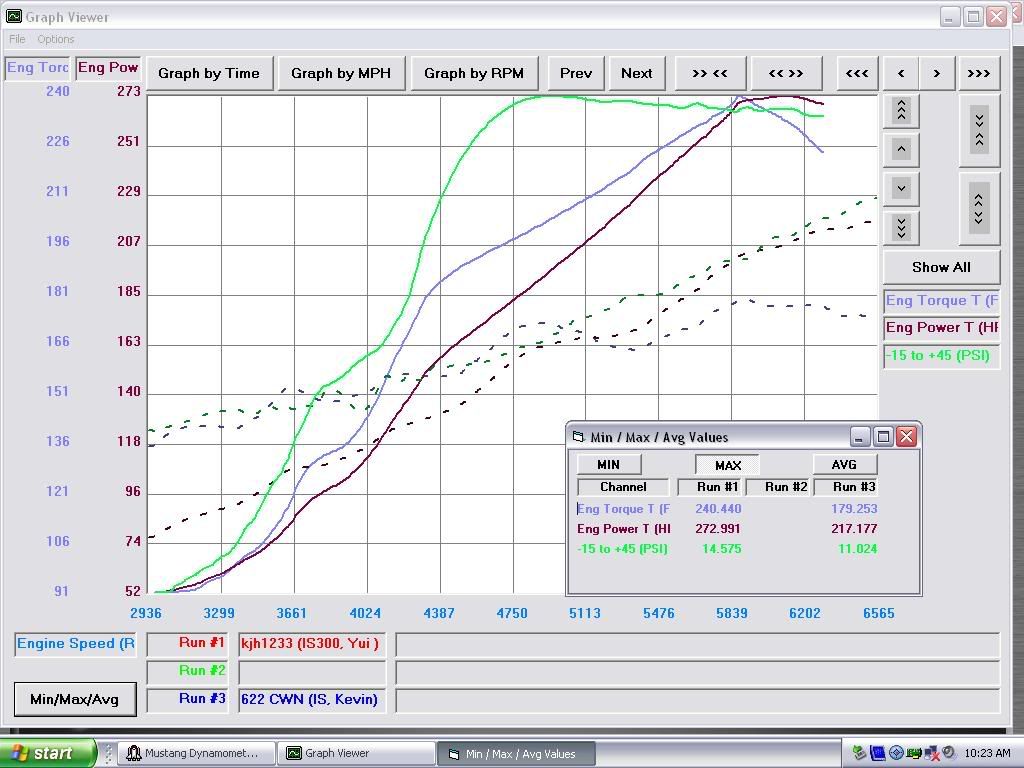 It's dyno comparison between same turbo IS300 and supercharged IS300.
Run 1 (Solid line) : Turbo IS300 (same as above)
Run 2 (Dashed line) : Supercharged IS300 with aem EMS
With super charged IS300 (SC IS300), we couldn't get even close to the optimal timing because of detonation. Same with the turbocharged setup without meth.
SC IS300 was making more with higher ignition timing, but the high compression ratio made it hard to run a good timing map. You'll be limited by your fuel octane before reaching mean best timing.
Still, it's a great power gain over stock. (it'll do about 160hp at the wheel)
But, if you're serious about doing forced induction on 2JZGE, getting forged piston w/ lower comp ratio or meth or both will be better idea.
(Our mustang dyno reads about 25% off the crank hp, and reads 10 to 15% lower than dyno jet dynos, or any other dyno that runs a "correction factor" to match other dyno numbers.)