FS: $13000 obo
FT: looking for something stock or close to, and in the 2000's haha. but let me know what you have.
Part Out?? maybe, the car is insured for a other 2 month before it goes back into storage... so if it isnt sold or traded by then i will start stripping her. i will make a new thread when the time comes, but for now its just a FS/FT thread.
Engine/Transmission:
'98 Acura Integra LS Transmission
A/C System Removed
AEBS Cam Seal
AEM Fuel Pressure Regulator
AEM Fuel Rail
ARP Head Studs
B&M Fuel Pressure Gauge
Blitz S14 FMIC
DC Battery Tie-Down
EFX Battery Terminals
Exedy Racing Flywheel
Exedy Stage 1 Organic Clutch
Fal Slim-Line Electric Fan
Garrett GT28/76R Turbo
Golden Eagle Oil Feed Plate
Greddy 550cc Fuel Injectors
Greddy Catch Can
Greddy Knock Sensor Adapter
Greddy Remote Switching System
Greddy SP2 Exhaust
Greddy Timing Belt
Hamp Oil Filter
Hasport Motor Mounts (Race)
HKS SSQV Blow Off Valve
Hondata S300
Hondata Intake Manifold Gasket
Injen CAI/Turbo Charge Pipe
JDM Integra Type-R Valve Cover
Kinetic Cast Turbo Manifold
Kinetic Silicone Couplings & T-Bolt Clamps
Kinetic Turbo Outlet Elbow
Mugen Thermostat
Mugen Thermoswitch
Optima Yellow Top Battery
PortFlow Head Port and Polish
Russell AN Fittings and S/S Braided Lines
Samco Radiator Hoses
Skunk2 Intake Manifold Port Matched
Skunk2 Pro Series Intake Manifold
Skunk2 70mm Throttle Body
Spoon Heat Wrap
Spoon High Tension Plug Wires
Spoon Radiator Cap
Spoon Radiator Stay
Spoon Reservoir Tank Covers
Spoon Magnetic Oil Drain Bolt
Spoon Magnetic Tranny Drain Bolt
Spoon N1 Triple Core EK Full Size Radiator
Spoon Oil Cap
Spoon Carbon/Kevlar Spark Plug Cover
Supertech Black Nitride Coated Valves
Supertech Dual Valve Springs
Supertech Titanium Retainers
Tial 38mm Wastegate
T1R Water Temp Sensor Adapter
TGR Custom Radiator Overflow Bottle
TGR Down-Pipe
TGR Dump Tube
TGR Earthing System
TGR Engine Wire Tuck
TGR IC Piping
Integra Type-R Throttle Cable and Brackets
VtecFrog Patch Harness
Interior:
Blitz DCII Oil Pressure Gauge
Blitz DCII EGT Gauge
Blitz DCII Boost Gauge
Blitz DCII Oil Temp. Gauge
Blitz DCII Water Temp. Gauge
Blitz Live Unit X2
Bride Zeta III Bucket Seat (Driver)
Bride Brix I Reclinable Seat (Passenger)
Bride Seat Rails (Driver & Passenger)
Bride Rear Seats
Bride Door Panels
Custom Carbon Fiber Cargo Cover
Custom False Floor
JDM Fog Light Switch
JDM Shift Boot
JDM Integra Type-R Gauge Cluster
Momo Tuner Steering Wheel 350mm
NRG Quick Release
NRG Slim Hub
T1R Hyper LED Dome Lights
T1R T182R Titanium Shift Knob
USDM Air Bag Block Off Tray
USDM Integra Type-R Rear Seats
Exterior:
'98 Integra Rear Taillamps
'98 Integra Rear Bumper
Championship White w/ Gold Mica Pearl
Cusco Licence Plate Relocation Kit
JDM Integra Type-R Front End Conversion
JDM Integra Type-R Carbon Fiber Hood
JDM OEM HID Headlights
J's Racing 3D Type-1 CF GT Wing (Wide)
PIAA Wiper Blades
Tein Hood Dampers
Shaved Emblems
Shaved Side Moldings
Mugen Front Bumper (VIS)
Wings West W-Type Sideskirts
Wings West W-Type Rear Lip
Suspension:
Alex Trunk Floor Bar
Apex'i N1 99Spec Coilovers
Carbing C-Pillar Bar
Skunk2 Front and Rear Camber kit
T1R CF C-Pillar Bar
Cusco 6pt. Roll Cage
Cusco Optional Reinforcement Bars (x2)
J's Racing Inner Fender Braces
JDM Integra Type-R Lower Control Arms
RIGID Front Upper-Strut Bar
Spoon Rear Strut Bar
Spoon Lower Tie Bar
Skunk2 Camber Kit (Front and Rear)
Brakes/Wheels/Tires:
JDM Integra Type-R 5-Lug Conversion
Techna-Fit Stainless Steel Braided Brake Lines
TGR ABS Delete
Volk Racing CE28N Rims 17x7.5 +43
Volk Racing Limited Edition Center Caps
Falken Azenis Tires 205/40/17
Work Lugnuts
T1R Spacers (5mmFront and 3mmRear)
Stereo/Security:
JVC Head Unit
Compustar 9000PRO Alarm
Phoenix Gold Octane R 6.5" Mid/Tweets – Fronts
Phoenix Gold Tantrum 6.5" Coaxial – Rears
Fluids:
Honda Power Steering Fluid
Motul DOT 5.1 Brake Fluid
Motul DOT 5.1 Clutch Fluid
Motul Inugel Expert Radiator Fluid
Motul 300V Engine Oil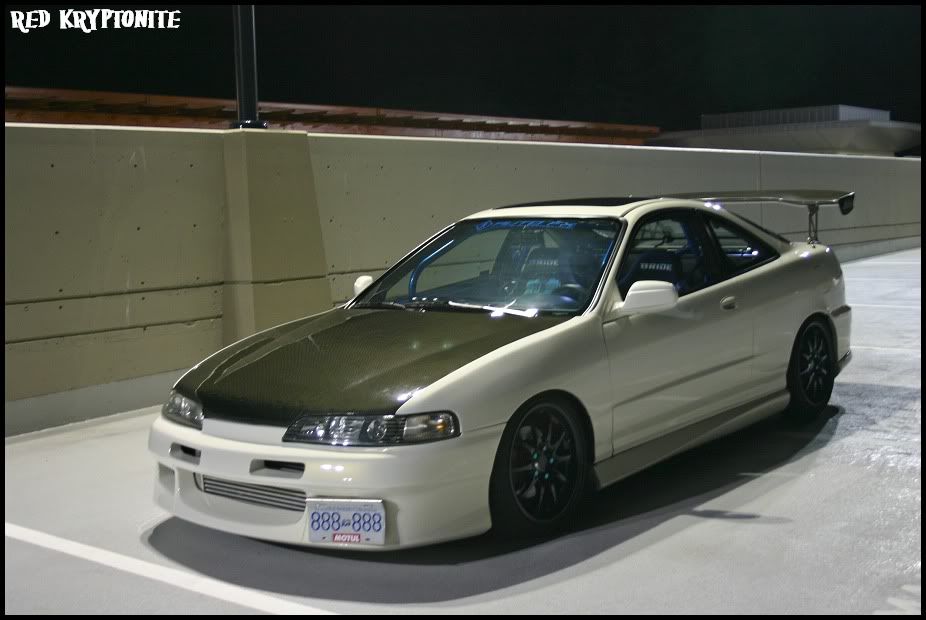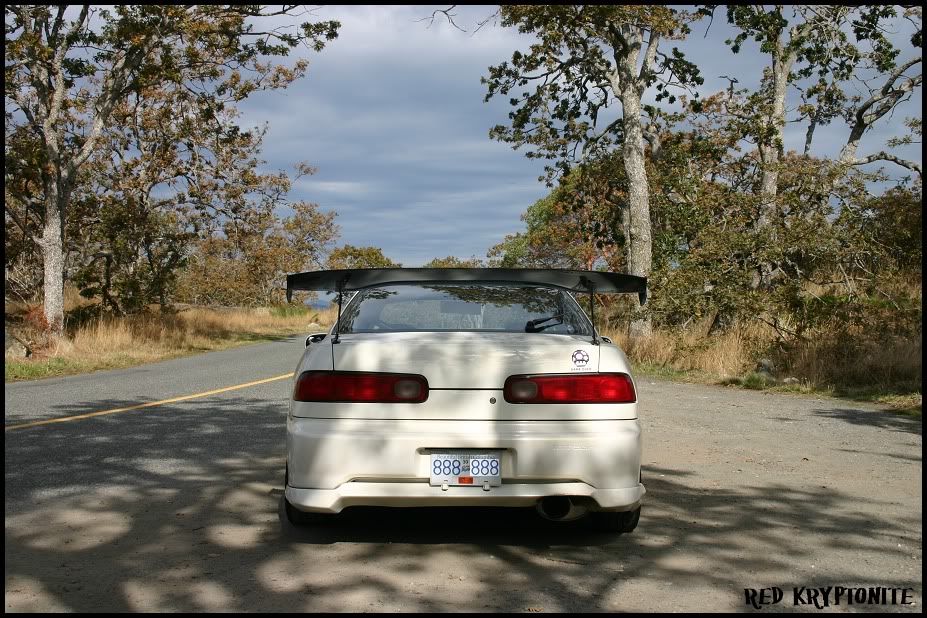 thanks for looking!
more pics of the cars build here
[url]http://www.revscene.net/forums/red-kryptonites-turbo-t571692.html